Custodea is an Open Source initiative to provide powerful solutions for the cultural sector based on open source components. We currently focus on digitization solutions and applications. Custodea covers activities related to the preparation, implementation, management and marketing of open-source projects. We at Custodea have rich project experience and we work closely with the Europeana project. Our intention is to provide, as well as our applications and systems, recommendations for solving a whole range of problems in the cultural sector. We also support opening new projects. Custodea is open to anyone who wants to participate in creating an open source infrastructure for the cultural sector.
The Custodea Audience
Custodea solutions are primarily designed for cultural memory institutions – galleries, museums, libraries, monuments and cultural institutions, as well as for media dealing with digitization.
Custodea covers the following areas:
harvesting of digital content and representations
data transformation, format conversion, mapping
creating and storing metadata
search in metadata
work with authoritative dictionaries, management of dictionaries
storing and publishing of data (digital library, digital repositories)
aggregating harvested data
data provider – e.g. for Europeana or for other institutions
presentation of content
Architecture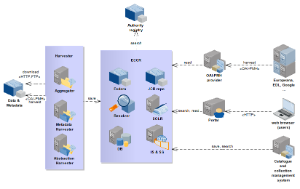 CEDVU
Description: Central Evidence of the Fine Arts; cataloging and acquisition module for collections of art work of the Slovak National Gallery; based on CCO (Creative Commons), semantic web technologies and express relationships between objects; a powerful digital model with extensible metadata management for a massive content management system; data accessible to the central archive via OAI-PMH; connection to central thesauri and dictionaries; web portal; workflows
Custodea Components: Cataloging and Registration System, ECCR
Customer: SNG
Technology: Java EE, JBPM, Java/Swing, EJB 3.0, Hibernate, Fedora Commons – content repository, Kowari Triple Store, RDF, Domain standards – DC (Dublin Core), CCO, VRA, CDWA, CIDOC-CRM, OAI-PMH
Time Limits: 2006-2010
CEDVU WEB
Description: Presentation of works from the SNG central register of works of art
Custodea Components: Portal, ECCR
Zákazník: SNG
Technológie: Java EE, Liferay, Hibernate, Fedora Commons – content repository, Kowari Triple Store, RDF, Domain standards – DC (Dublin Core), CCO, CIDOC-CRM, VRA, CDWA, OAI-PMH
Time Limits: 2008-2010
URL: www.webumenia.sk
Slovakiana (aka MKDIS, aka DISK2009)
The goal of Slovakiana projects is to protect Slovakia cultural heritage by the means of digitization and long term protection of digitized information, support for digital content creation and opening cultural heritage to the public
National aggregator
Description: National aggregator is a system that harvests metadata and abstracts from cultural and historic institutions and allows you to search and browse masterpieces of cultural heritage.
Custodea Components: Portal
download promotional material Custodea (PDF, 1MB, Slovak)