EEA is one of the leading Central European companies in the digitization and the presentation of cultural heritage. In the framework of its work, it cooperates with the relevant EU institutions, including the Europeana project. It has developed several solutions that enable cultural institutions to collect, manage and publish their cultural data. These solutions include digital libraries, data collection harvesters, systems for institutions providing digital content, cataloging systems and presentation portals. One of our goals is to share our experiences and to work with other parties to make it a more cultural world. The Custodea Open Initiative has been launched with this intent.
CUSTODEA
Custodea is an Open Source initiative to deliver powerful component solutions for the open source cultural sector. We are currently focusing on digitization solutions and applications. Custodea covers activities related to the preparation, implementation, management and marketing of open-source projects. We at Custodea have rich project experience and we work closely with the Europeana project. Our intention is to provide, besides our applications and systems, also recommendations for solving a whole range of problems in the cultural sector. We also support opening new projects.
For whom is CUSTODEA?
Custodea is open to everyone who wants to participate in creating an open source infrastructure for cultural sector. Its solutions are primarily intended for "historic" institutions in the cultural sector – galleries, museums, libraries and other cultural institutions, as well as for media dealing with digitization. Custodea covers the following areas: • digital data acquisition and representations, • data transformation, format conversion, mapping, • metadata creation and storage, • metadata search, • authoring dictionary work, dictionaries management, • data storage and accessibility (digital library, digital repositories), • harvesting, • data provision (provider) – e.g. for Europeana or for other institutions, • data presentation.
Architecture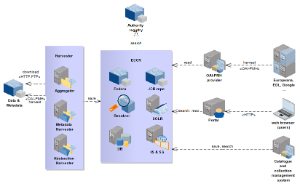 Description of architecture and vision of Custodea as well as detailed description of its components can be found directly on Custodea website
REFERENCES
Europeana Local
Description: EEA is a technical partner of Europeana Local project that acquires data from local historic and fund institutions. Our role in the project was to provide technical assistance to institutions with exporting collections by OAI-PMH protocol in the ESE (Europeana Semantic Elements) format. We created and deployed repositories for institutions that did not have a metadata solution available.
Components and projects: ECCR
, OAI-PMH Provider
, Harvester
Customer: EK Technológie: Java, Apache Jackrabbit, Liferay, Apache Servicemix (ESB), XSL, XML
Timeframe: 2008-2011
CEDVU
Description: Central Evidence of the Fine Art; cataloging and acquisition module for collections of works of art of the Slovak National Gallery; based on CCO principles, semantic web technologies, and expressive relationships between objects; a powerful digital model with extensible metadata management for a massive content management system; data accessible to the central archive via OAI-PMH; connection to central thesauri and dictionaries; web portal; workflows
Used Custodea components: Cataloging and registration system, ECCR
Customer: SNG
Technology: Java EE, JBPM, Java/Swing, EJB 3.0, Hibernate, Fedora Commons – content repository, Kowari Triple Store, RDF, Domain standards – DC (Dublin Core), CCO, CIDOC-CRM, VRA, CDWA, OAI-PMH
Timeframe: 2006 – 2010
CEDVU WEB
Description: Presentation of works from the central register of fine art works
Used Custodea components: Portal, ECCR
Customer: SNG
Technology: Java EE, Liferay, Hibernate, Fedora Commons – content repository, Kowari Triple Store, RDF, Domain standards – DC (Dublin Core), CCO, CIDOC-CRM, VRA, CDWA, OAI-PMH
URL: www.webumenia.sk
Slovakiana (aka MKDIS, aka DISK2009)
The goal of the Slovakiana project group is to ensure the protection of the cultural heritage of the Slovak Republic by its digitization and the long-term protection of digitized information, supporting the creation of digital content and making the cultural heritage available to the professional and wider public.
National aggregator
Description: National aggregator is a system that harvests metadata and abstracts from cultural and historic institutions and allows you to search and browse masterpieces of cultural heritage.
Used Custodea Components: Portál
, ECCR
, Harvester
Customer: IBM, MK SR
Technlogies: Java, JBoss AS, Postgres, Fedora 2, Liferay
National Authority Register
Description: Centralized administration of managed dictionaries; also including the system of personnel and corporate authorities, workflows for creating, approving and managing records in authorities.
Components and projects: ECCR
Customer: IBM, MK SR
Technology: Java, JBoss, Postgres, Hibernate, Liferay