One of the many areas where Atlassian products can with their flexibility cover the necessary processes in the area of human resources management – in other words, "HR".
So, whether you are using Atlassian products in your business and would like to extend their benefits to other teams, or if you have not yet encountered them, take a closer look. We have prepared an HR package – a solution for managing personal activities that will make it easier:
register job seekers and make the selection process more transparent

employees entering and leaving

 – "Onboarding/Offboarding"

initial and gradual training of employees

to record employees' skills and abilities and improve them

get a comprehensive overview of various reports.
Here you will find a brief description of the main functionality of the HR package.
An EEA HR module at a glance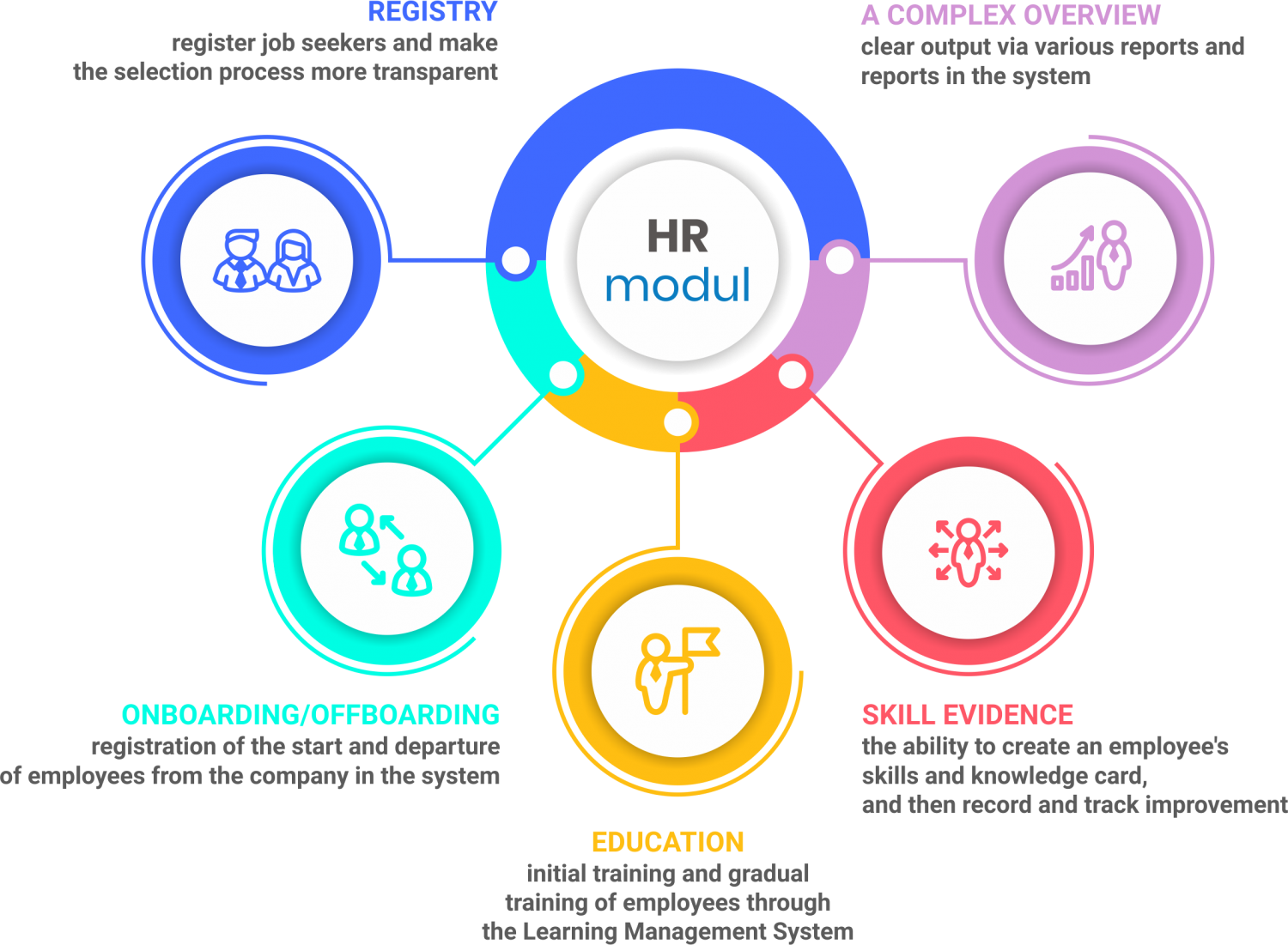 ---
Wherever you can post a link on your website, the candidate will be redirected to a form to show interest in the job. The candidate will fill in the required data and attach a CV.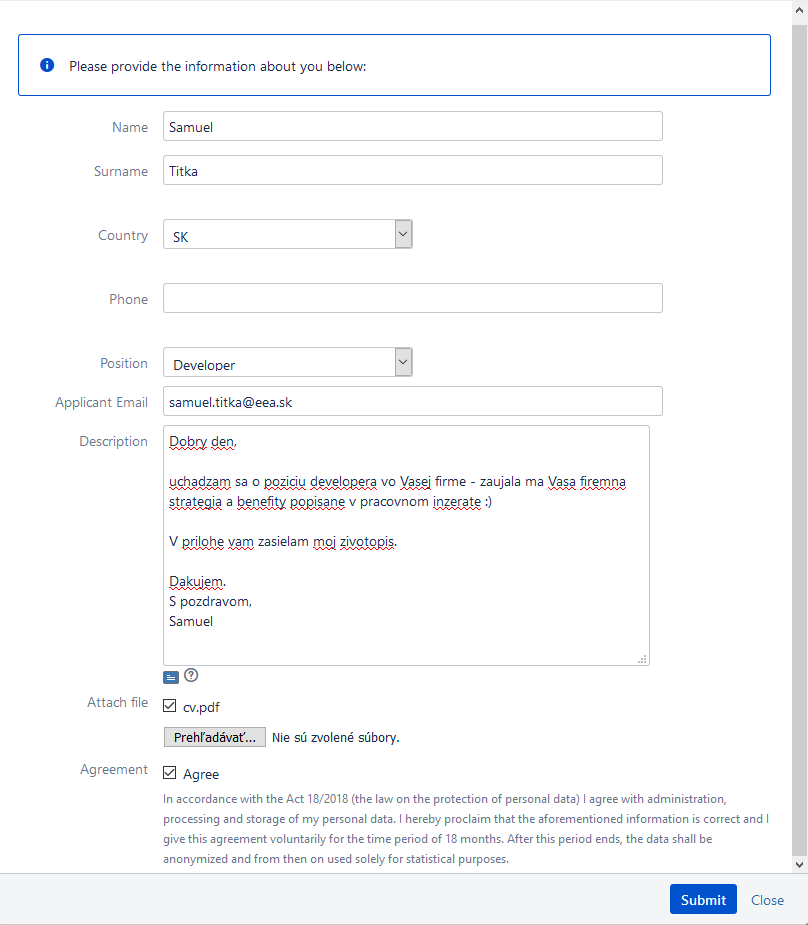 After submitting the form, an appropriate Jira job record is created in Jira. HR departments are automatically alerted by email about a new candidate or find a new entry in the overall candidate list on the board.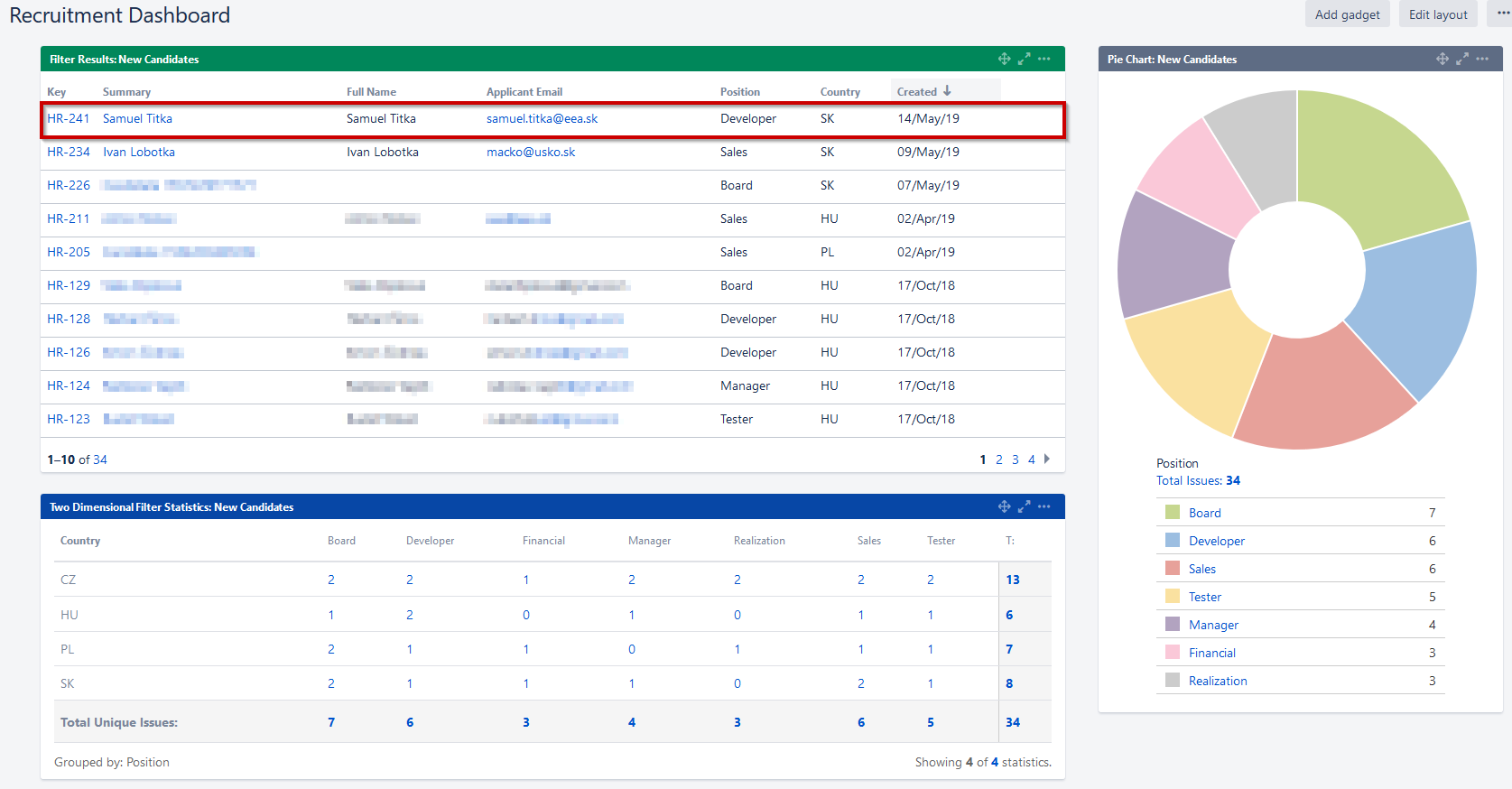 The task management process (staff selection process) has multiple statuses. Examples are "Manager Evaluation" or "Interview", which means that the candidate is internally evaluated by the responsible manager, or that the candidate has been invited to an interview. All status changes are recorded in the system.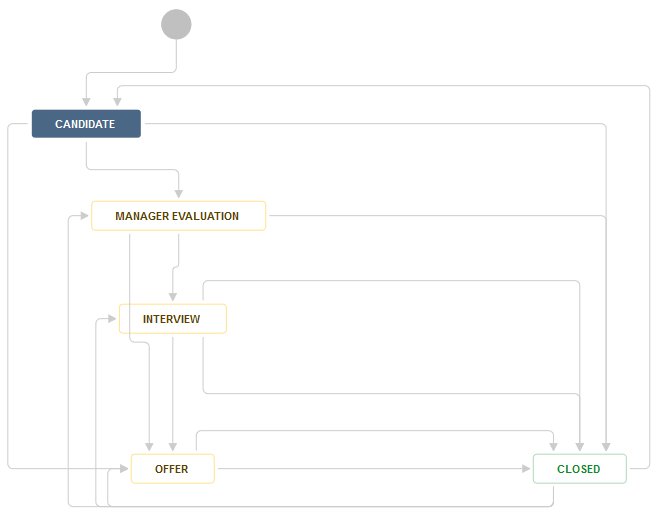 The communication between the applicant and the HR department takes place via email. The candidate uses his / her email client. However, an HR department employee does not have to open any e-mail box – just click on the appropriate button to write an e-mail to the candidate.
All communication, including responses from the candidate, is recorded in the form of comments under the appropriate task.


In order to comply with the General Data Protection Regulation (GDPR), the HR department has the ability to remove the personal information of a particular candidate with one click Removing personal data also takes place in the background automatically – after a predefined period (for example, six months). Jira's job itself is not deleted (statistics are not affected by this action), it is anonymized.
If the employee selection process is successfully completed, the HR department closes the job by accepting it. Of course, the task can also be closed by refusing – whether by HR or by the applicant itself.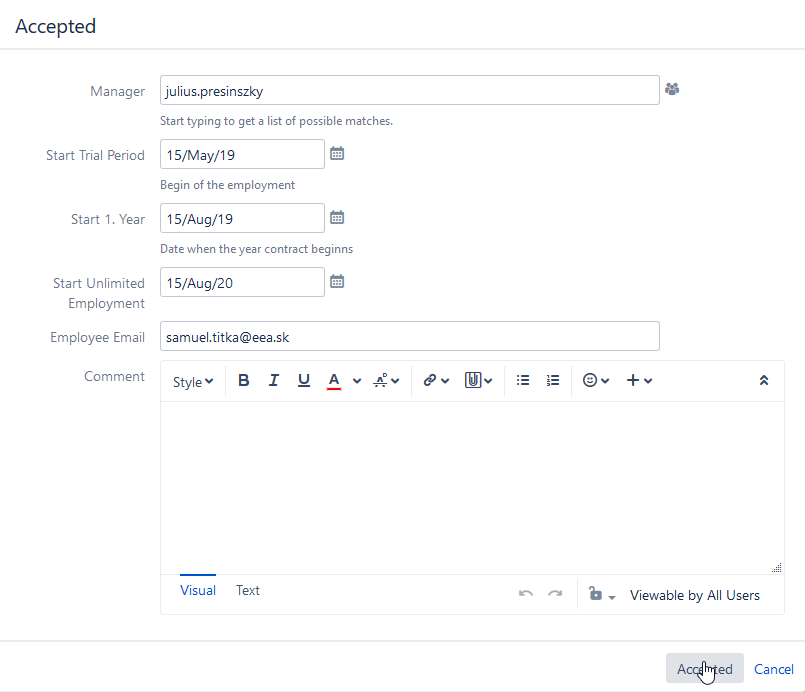 Starting and leaving employees

 – "Onboarding/Offboarding"
---
For each new employee, a Jira job record and a Confluence page are automatically generated.
At the Confluence site, the employee can fill out his profile, upload a photo, and so on. Also, the employee will find a list of his or her training – whether he/she has graduated or who are still waiting for it. We'll talk more about training later.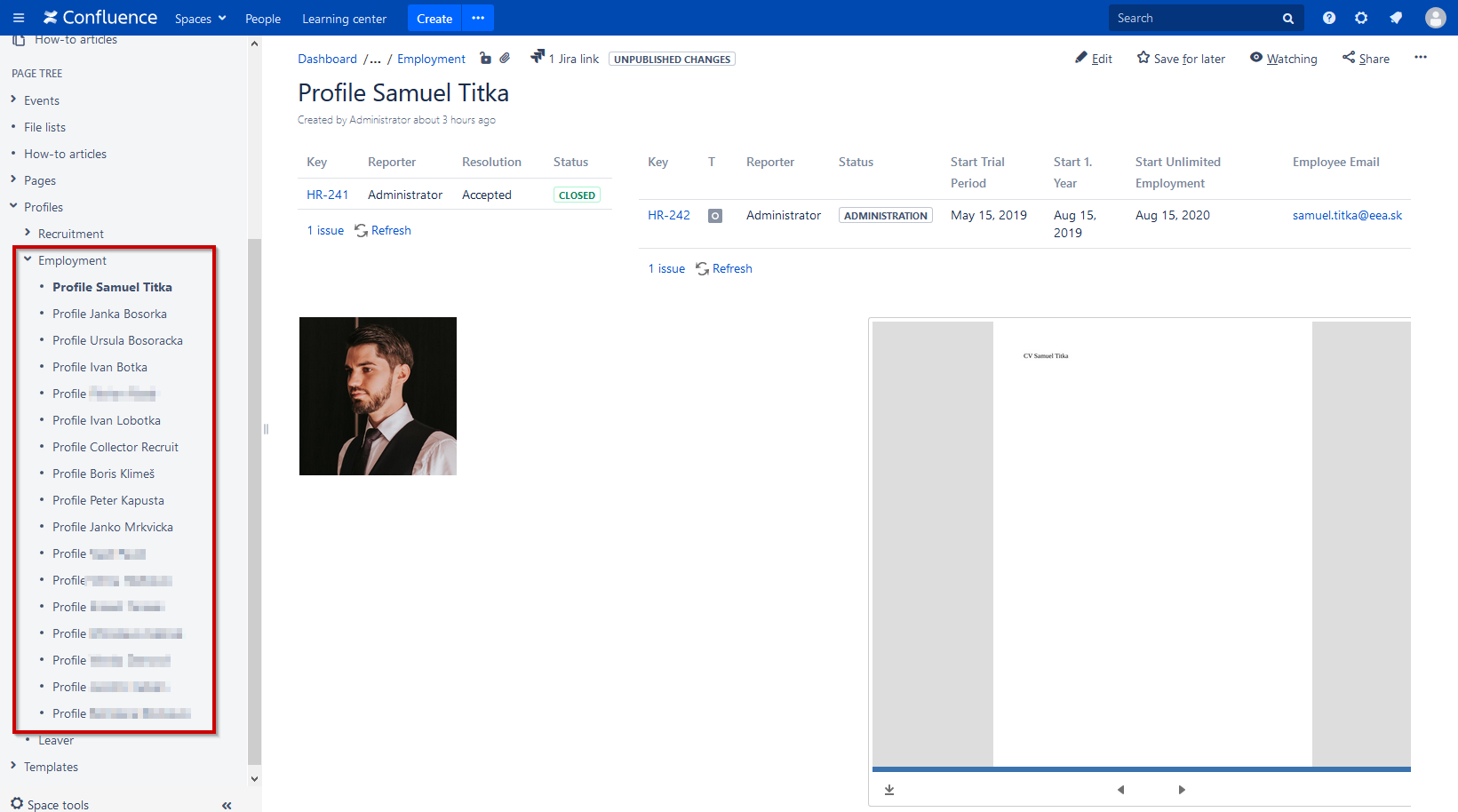 In Jira, all important information about the employee is recorded – name, company email address, supervisor, etc.
There are also 3 dates recorded here – when the employee enters into employment until the trial period and when the full-time job begins. These dates are important because automation runs over them – the status of the job changes automatically and reflects the period of employment. Last but not least, everything is linked – so you can get to the Confluence profile page with one click.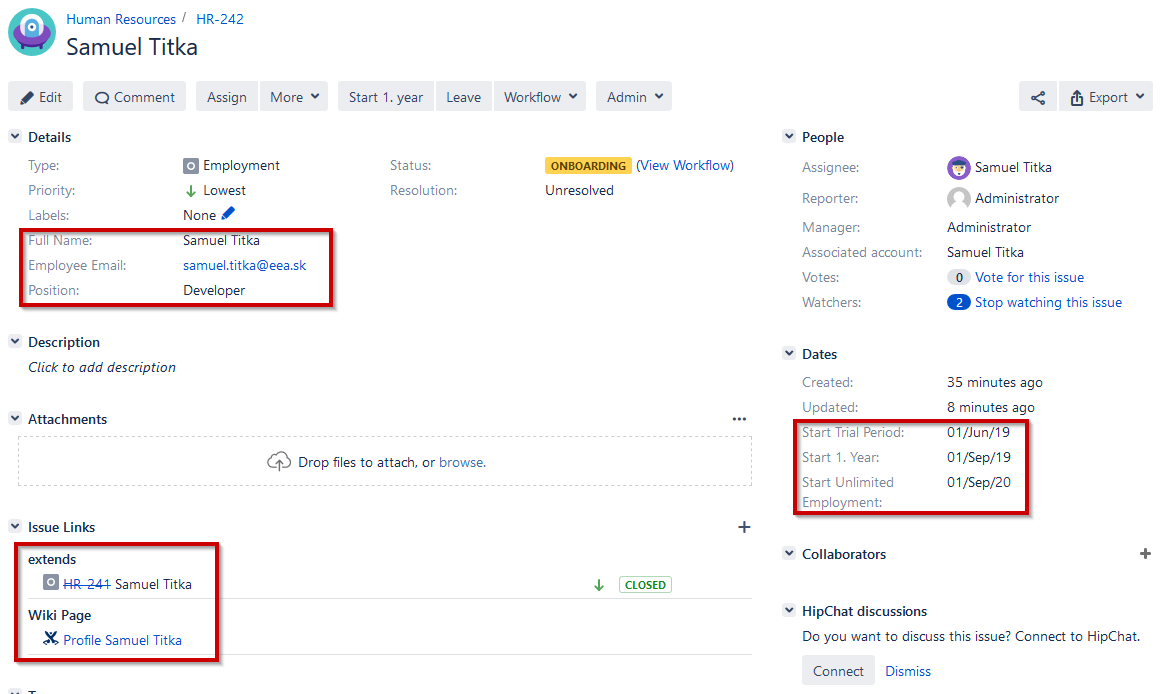 We know there are a lot of access and user accounts on new employees – that's why we've set up a feature that greatly simplifies the process.
Clicking "Access Request" will generate tasks for the assigned colleagues – so that you do not forget to set up access accounts.
Of course, it is also possible to cover other necessary job-related tasks that will ensure that everything needed for the new employee is prepared in advance – a mobile phone, a laptop, a business car or such a small piece as a custom cup 
. Thus, requests for the Jira Service Desk can be generated.
It is also possible to automate the generation of scripts to add a new employee to LDAP (or other user databases). The result of the "Generate Scripts" action is a script that is run by the LDAP administrator.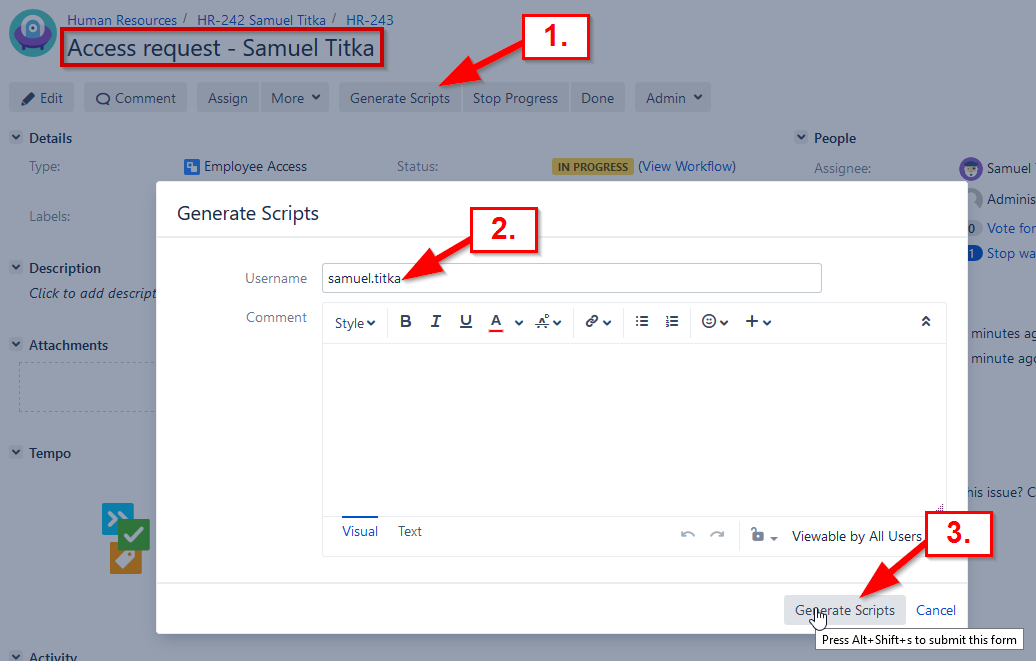 For a scheduled departure of a staff member on a particular day, it is sufficient to fill in the relevant date field. Subsequently, on a specified day, the job will automatically flip to a status that indicates a completed employment relationship. The Confluence profile is archived.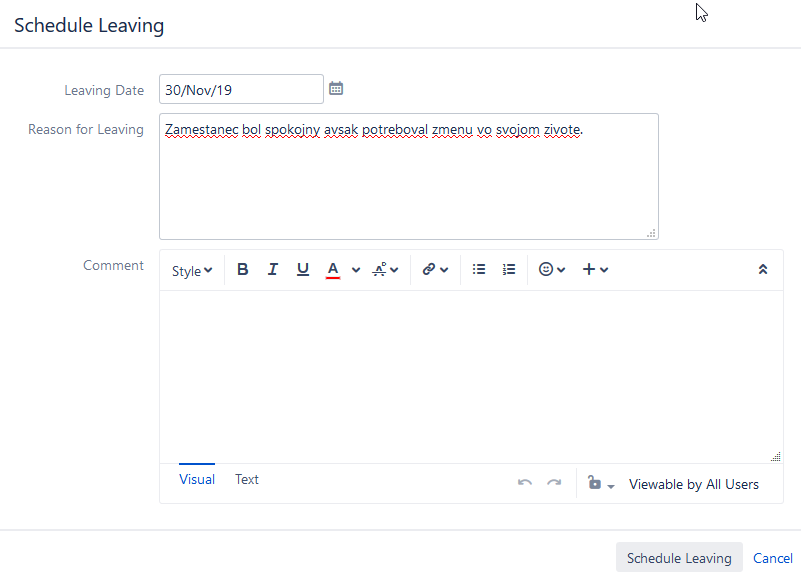 Initial training and gradual training of employees
---
The training of new employees is based on the LMS (Learning Management System) in Confluence – more in this blog post Vzdelávanie zamestnancov jednoducho – e-learning v Confluence. (in Slovak language)
In short, you can easily create breathtaking and clear courses within Confluence. There is no need to install a stand-alone LMS, or to combine multiple site mergers into a single training program.
All trainings (eventually different events), whether internal or external, allow us to register Jire's package as Jira tasks. The location of the event, the date, the type of the event, its cost is recorded. The corresponding Confluence page is automatically created for the event – training materials or other information can be added here.
The event has designated organizers (mostly managers or supervisors) who add participants (team members, departments, etc.).
Events/trainings also have their status. During the registration closure, the so-called "EDU Task" (learning task) for each planned participant. If an employee attends a training session, he/she can then post-training time or post a training assessment on "EDU Task".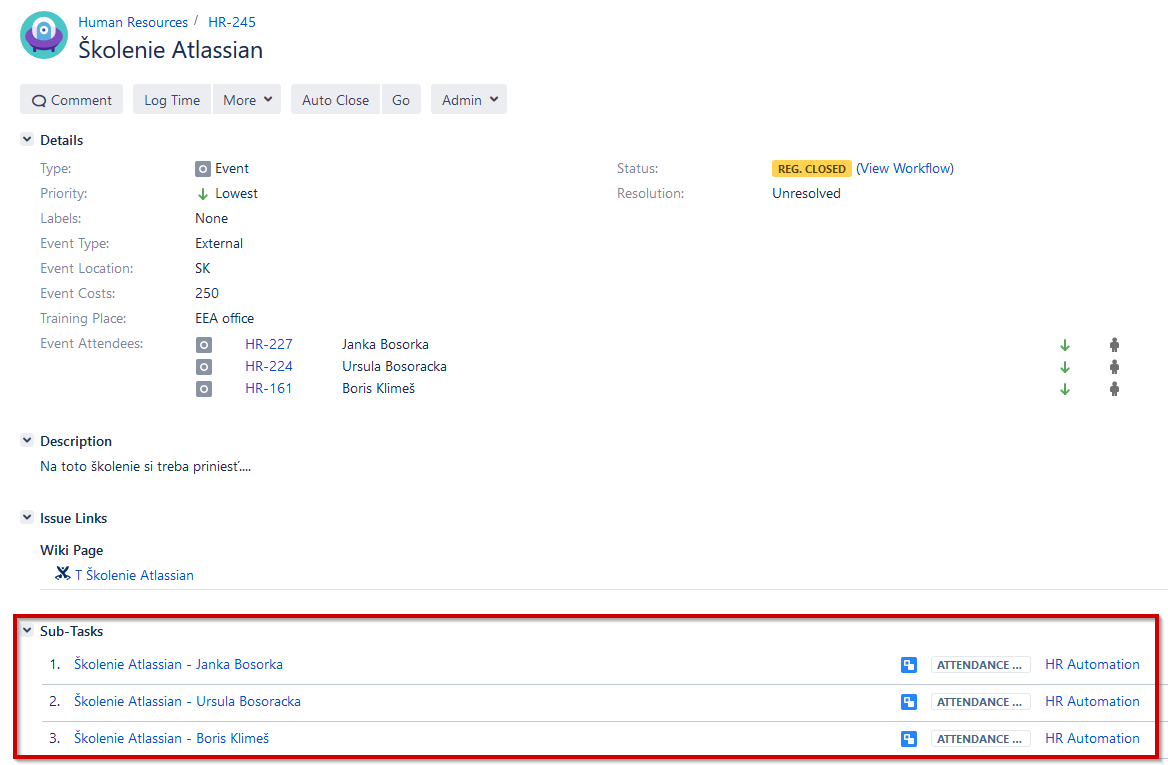 As mentioned above, everything is linked – that is, the HR department sees all the employee's training on his profile page in Confluence or in his Jira role.
Recording of skills and abilities of employees and their improvement
---
For each employee, it is possible to create a card of his abilities and knowledge – again in the form of Jira's task. The abilities of different character are recorded – language, technical or so-called. soft skills.
The existing "ability card" may be updated on a quarterly basis – history is kept, so developments in capabilities and skills can be tracked.
Comprehensive overview through various reports
---
All the data described above can be analyzed and visualized directly in Jira using the eazyBI application. This will give you an overview:
Applicants for job positions – list of applicants, number of candidates for different positions

…

About events and trainings – amount of training, pricing, training list, aggregated feedback from training participants

…



About employees and their completed training – whether they have received at least one training or how many have planned them

…

Conclusion
---
The bundled package is fully configurable, which means we can tailor it to fit into your company's HR department processes and needs.
We developed the package based on the real requirements of one of our industrial clients. The client needed to register all trainings of his employees in a transparent way. Many employees needed special technical training and retraining for their work, so we added functionality that notifies relevant employees in advance and the HR department about the upcoming certificate expiration.
Another motivation was the need to simplify and speed up the recruitment process – from the registration of candidates to the initial training of recruited staff and ensuring access to various systems.
Last but not least, the client required to record in detail the capabilities of its employees due to the efficient use of human resources.
The client is a multinational company and uses the HR package functionality developed by us in branches in several countries.

Are you interested in the HR package? Would you like to know more?
Feel free to contact us.
Samuel Titka, Atlassian consultant