Nowadays, more and more clients are thinking about how to cover their "knowledge base" and adapt it to their image. We've met with clients who had special requirements for how the intranet should look, which would be functional, nice looking, and support collaborating with or without Jira or other applications, and would even be a stand-alone intranet or custom wikipedia. These tasks are fully compliant with Atlassian's Confluence software. As Atlassian also mentions on their site – it's more than just text. How to understand this correctly will be discussed in this post.
Confluence is basically a mailbox, a store where you can keep your information. It's where you can share messages, where you can share, comment, and enrich new knowledge. Confluence gives you the opportunity to work with multiple colleagues in one place.
There are many ways you can choose to make use of Confluence: you can create notes from meetings, map out project plans, specify product requirements. You might make your own blog and posts to tell colleagues about news. With our clients, for example, we have been configuring Confluence for HR needs to record their employee information in their own space, transferred directly from Jira. Another good example is creating an informational intranet for a client who thus brings his employees together in one digital place and provides them all with information about their company and the events that are happening in the company. Confluence can also provide you with a place to educate your employees, making their own internal e-learning center, using various possibilities; some of our clients also do this.
Confluence strongly supports document management. You can share PDFs, office documents, pictures, information and links, along with instant previews, full-text searches, and pinned comments that make it easier to manage your files.
There is a nice voting capability of polling with Confluence. Thanks to add-ons, you can make any poll for your employees where they can vote for innovations, or team-building – where they will be held, at what time. One of the options our clients have used was to establish a place in Confluence to sell their stuff, like a bazaar.
Among the wide possibilities, your use of Confluence depends on how you adjust it so it works just how you want.
Examples of some possibilities offered by Confluence:
Multi platform versions
Another great advantage of Atlassian tools is the ability to view content on different devices.  This makes it easier to access information, and you can always be online if needed.
Templates
We include best practice templates to help you get started with your favorite pages, so you can start quickly with tested formatting and avoid problems.
Document Management
Share PDF files, office documents, pictures and more in Confluence. Automatic versions, instant previews, full-text search, and pinned comments make it easy to manage your files.
Authorization
Keep your site and content secure using permissions that give you fine and total control.
Jira
Connect to JIRA to see an overview of your development projects, with auto generated links.
Version control of pages and files
Track every version and change you and your colleagues make to any project or file.
Add-ons
Various accessories can enrich your Confluence tools for even deeper customization.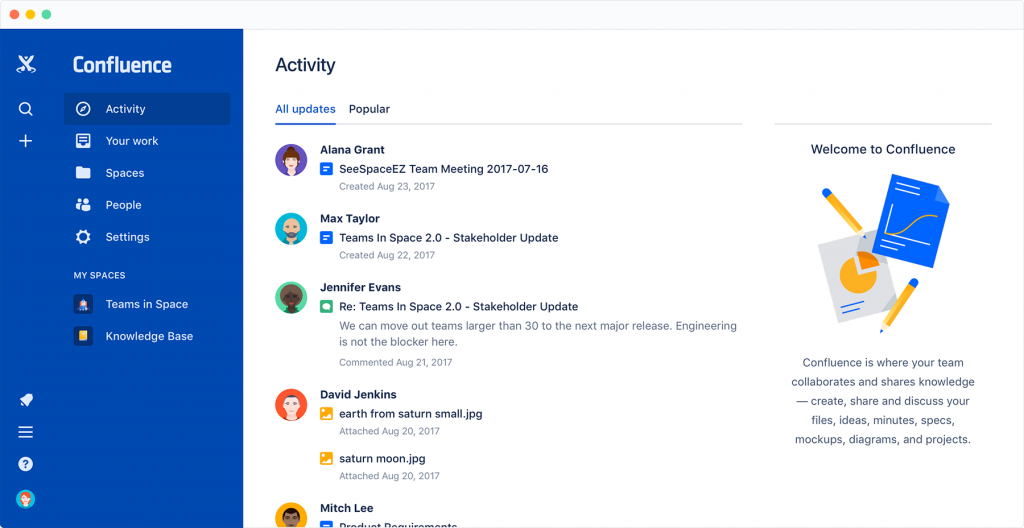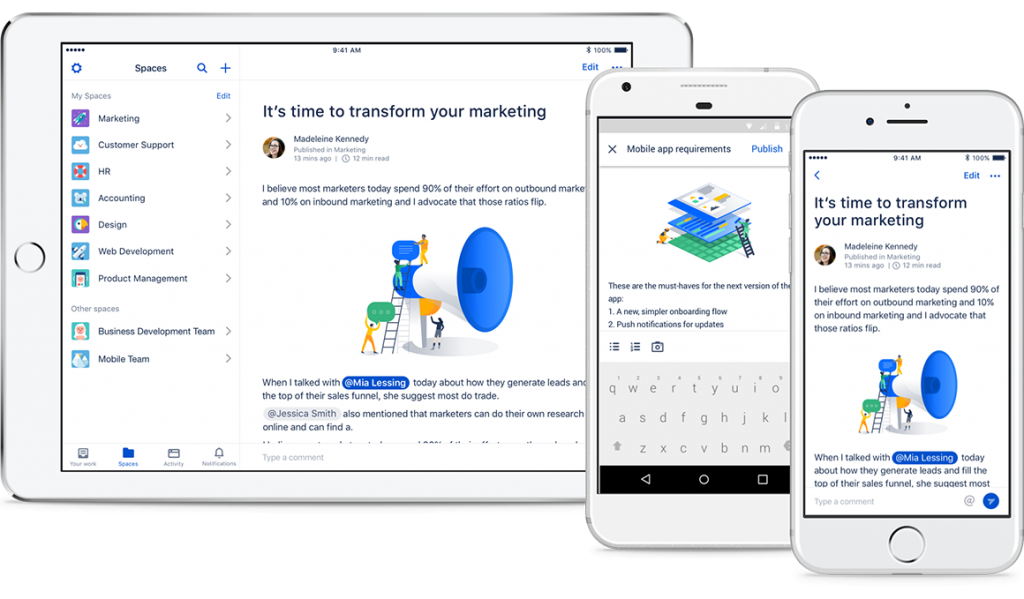 If you are considering such a solution for your organization, do not hesitate to contact us. We will be happy to help you and customize Confluence according to your ideas and needs.
Peter Pešta
Atlassian Consultant