Over the past few months, we've seen quite a lot of changes in the JIRA cloud. As soon as we become accustomed to the new look of the cloud Jira, Atlassian developers come up with more news. They call it "The New Jira". What can we now expect from these changes?
More users in JIRA Cloud
Recently, Atlassian released the news that it has entered the world of its own cloud and started using the JIRA cloud with 3,600 employees. If you bang your head against the wall of a 2,000 user maximum in the JIRA Cloud, the solution is simple. Atlassian has increased the maximum number of users in the JIRA cloud to 5,000.
New "fresh" look
Some elements of these changes are already visible in server versions – especially at the issue level – more sleek, "nicer". Let's take a look at what changes we've seen in recent months:
The biggest change is visible right after logging in – the menu bar is on the vertical left side rather than horizontally. This suits many users, because one can use the Windows bar on the left side of the screen – it seems to save space.  Of course, this does not leave room for text menu items. We need to learn how to work with icons.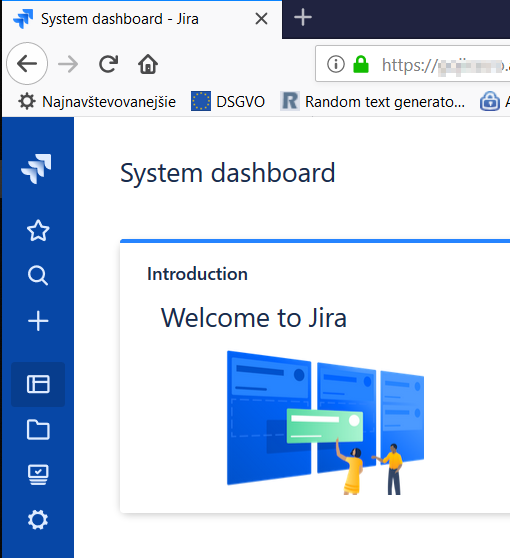 Of course, it is possible to extend the bar, but there seems no real way to save space.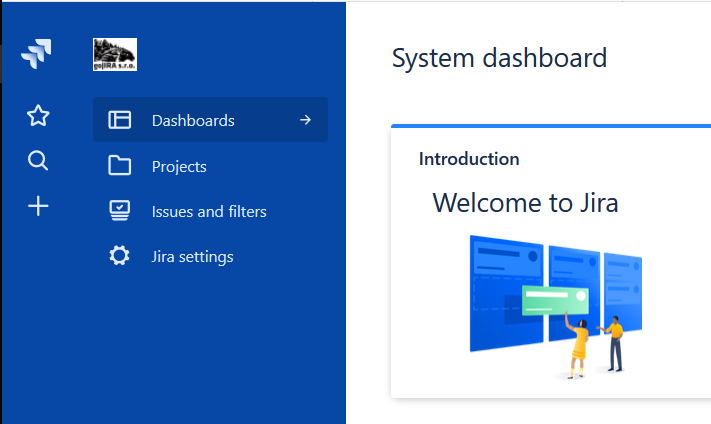 Let's sort each item in order. We can also use keyboard shortcuts (if available).
JIRA
Classic "button" to return to the home screen, the most recently visited dashboard. The option to set "My JIRA Home" and set as a home page a dashboard, board or filter has been removed.
Starred and recent (\)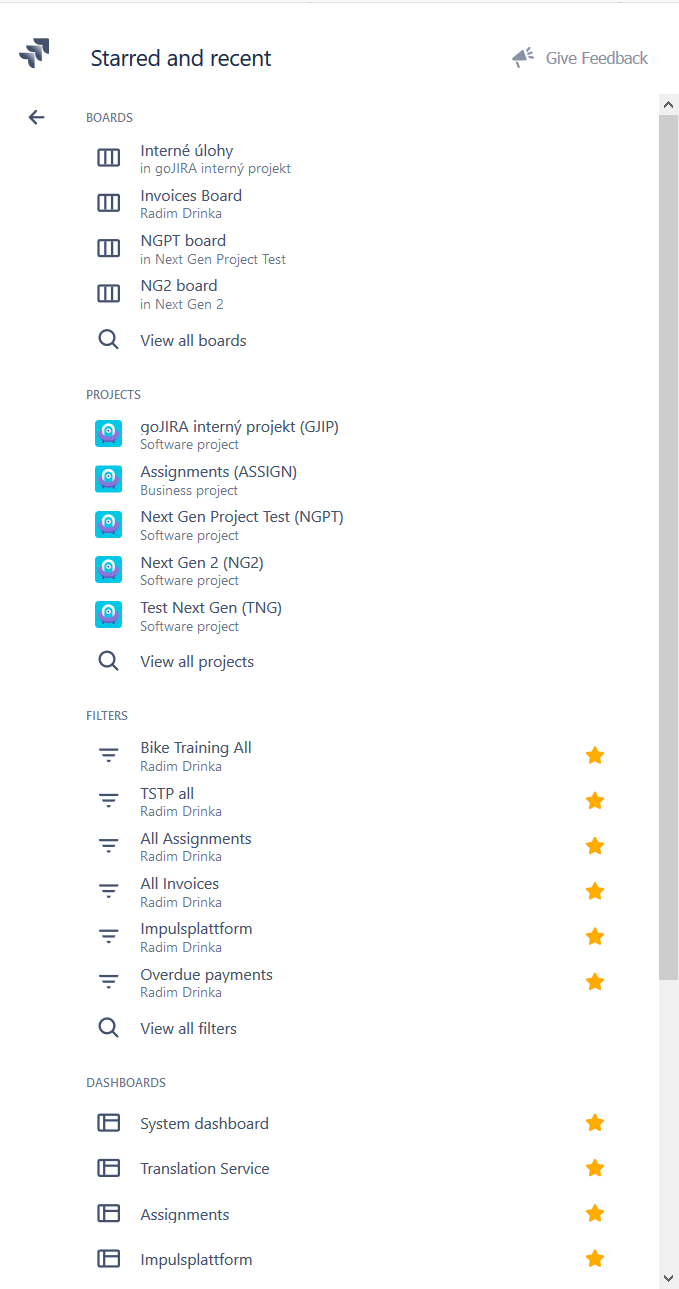 Clicking gets a very nice overview of recent boards, projects, filters, dashboards, and issues.
The arrow at the top left returns us to the dashboard.
Search (/)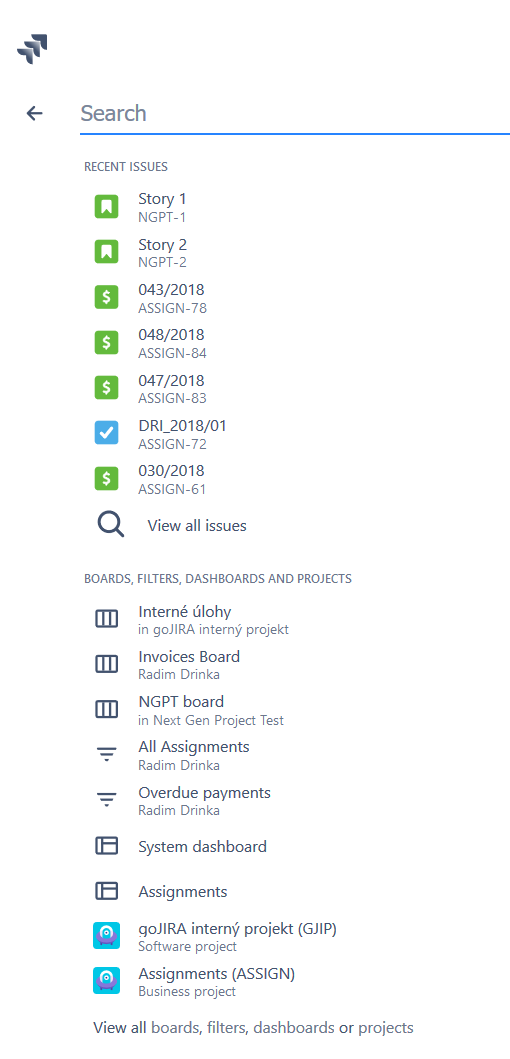 Enter the list of recent issues that have been worked on: boards, filters, dashboards, and searchable projects.
This is an alternative to the Search window at the top right in the server version.
Create issue (c)
After pressing, we get a classic screen to create the issue.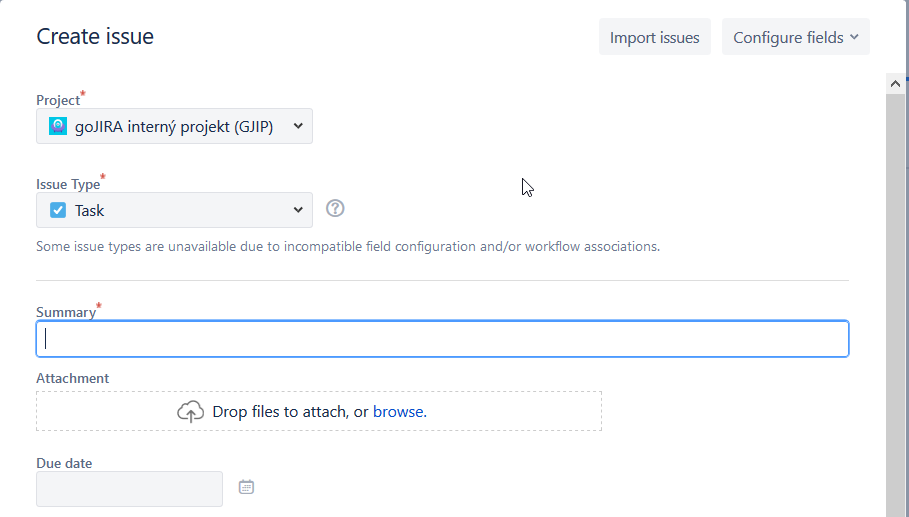 Interestingly, the CSV import option is directly from this screen.
Dashboards
Here is a list of all dashboards..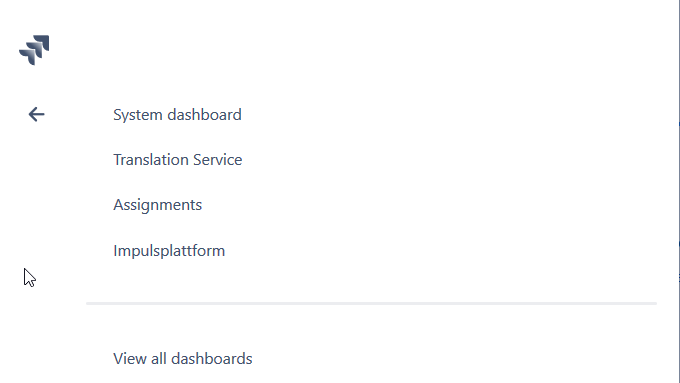 The sidebar layout does not allow you to show a list of dashboards that have been labeled "favorites" nor to specify their order. Therefore, "Manage dashboards" is missing.
Projects
An interesting thing happens after clicking on "Projects".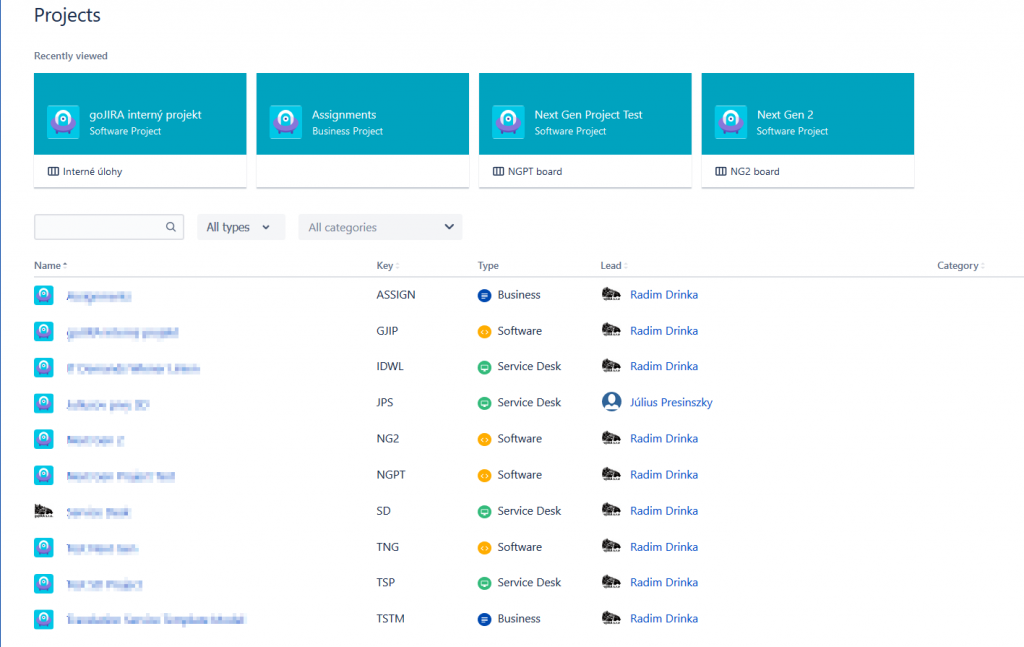 In addition to the list which shows the project type, we see the boards assigned to the projects recently opened. Administrators have the "Create project" option on the upper right.
Issues and filters

In addition to the latest filter list, we have the ability to search for issues. In this way we get to the Basic or Advanced Search we already know.
JIRA settings*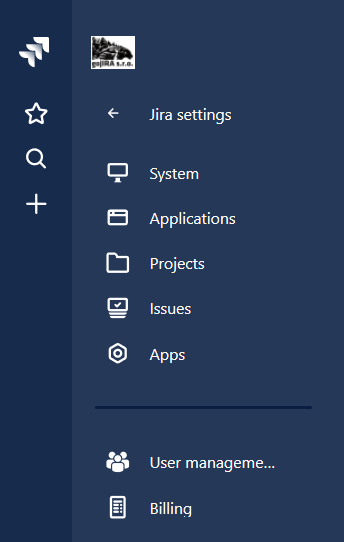 Enter administration. Because it is a cloud, we also see User management and Billing (both for the whole cloud). Thus, user management is not at the level of Jira, but of the cloud ("site").
*just for administrators
The bottom of the bar also contains icons.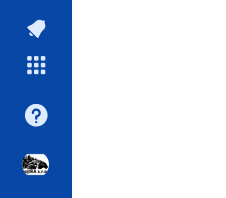 Notifications
Functionality is similar to what we know from Confluence.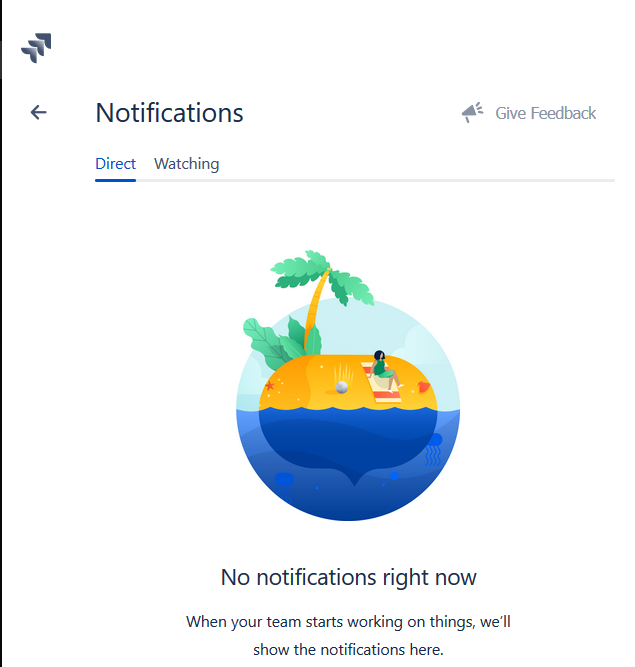 Switch to…
The transition between Atlassian cloud applications and others (projects in Jira, spaces in Confluence, etc.) including edit.

This is an alternative to "Application Navigator" in the server version.
Help
Classic JIRA help.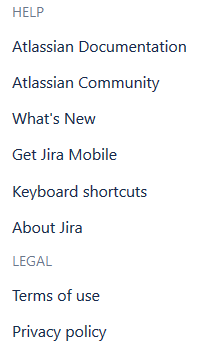 Your profile and settings
Profile setting.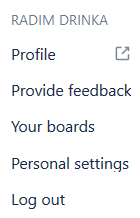 Issue
In this issue, we've "cleaned" the part for the workflow buttons and the actions have been moved to a dropdown list under the three dots at the top right,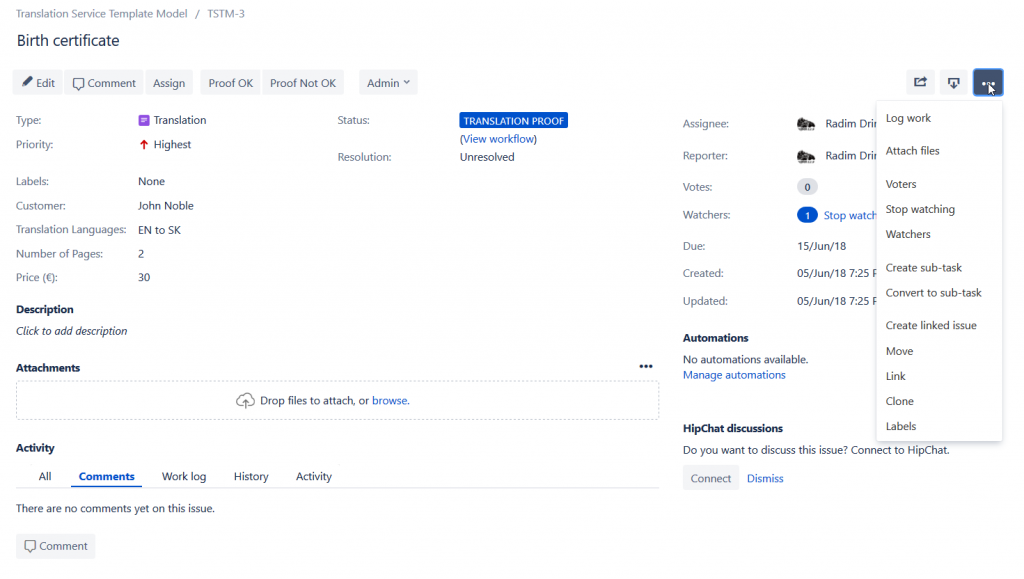 Among these we can find the possibility to create sub-tasks, or other actions.
Managing Users
A major change in user administration is the end of the "user name". As mentioned above, the message runs in the cloud site and contains mail, full name and group (unless managed through G-Suite).

Of course, it is possible to set the access method (self-registration, invitation only, etc.).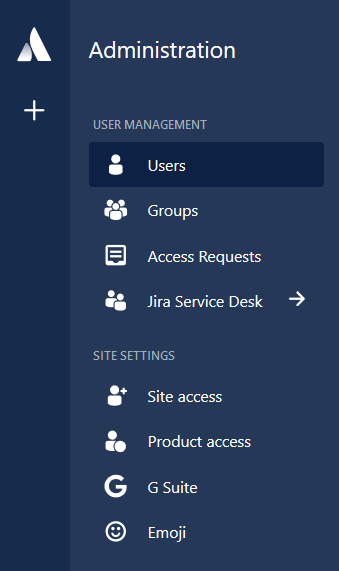 Next-gen projects
Perhaps the biggest innovation is the introduction of the  next-gen projects. In general, this is a completely new way of working with Jira. Changes that we can expect: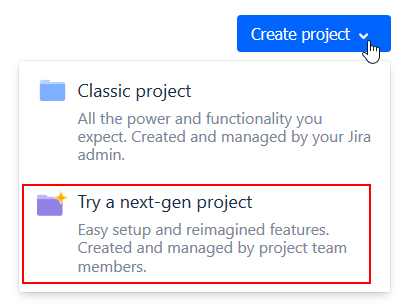 Creating a project
Every user who has access to the cloud core (cloud software) has the right to create a next-gen-project. Not the only administrator, but everyone.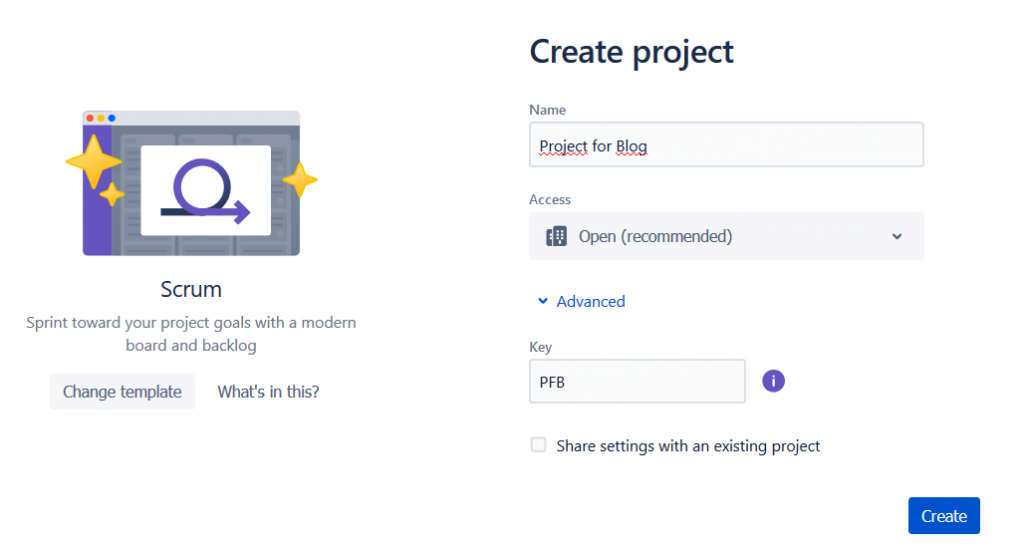 When creating a project, we select the project type (Scrum or Kanban) and the type of project access (open – for all, limited – add users can create and edit issues, but all JIRA users can see and comment private – only adds see, edit and comment). After selecting "Advanced", we can change the suggested key.
If you click on "Share settings with an existing project", you create a classic project rather than a next-gen-project.
So we can say that each next-gen-project is unique and it is not possible to create next-gen projects with a shared configuration.
Workflow and status states
Next-gen projects have their workflows with global transitions–from each status you can go to any other status. This workflow is built-in, can not be changed (this functionality is being prepared) and is not even in the list of workflows in the administration.
For this reason, in order to save space in issue view, the status changes as a field selection (in progress, done, etc):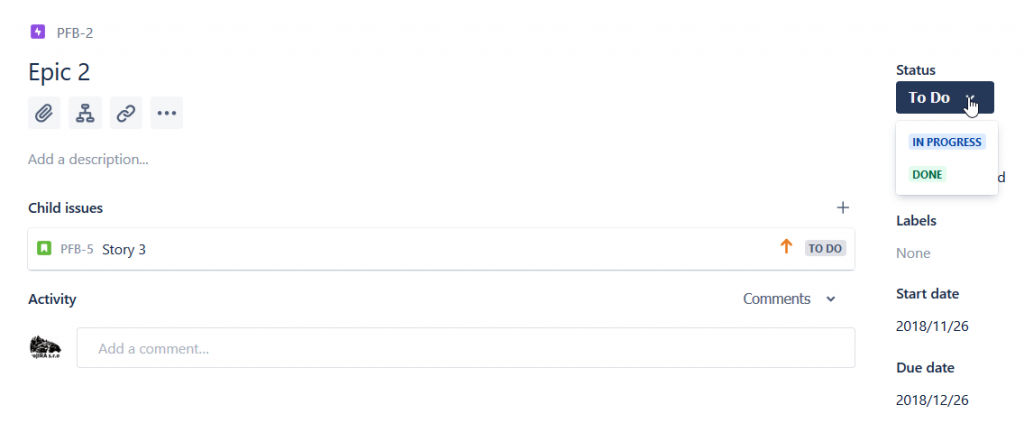 Administering a next-gen-project
People
This type of project is not based on schemas and roles from global settings – only administrators, project members, and viewers.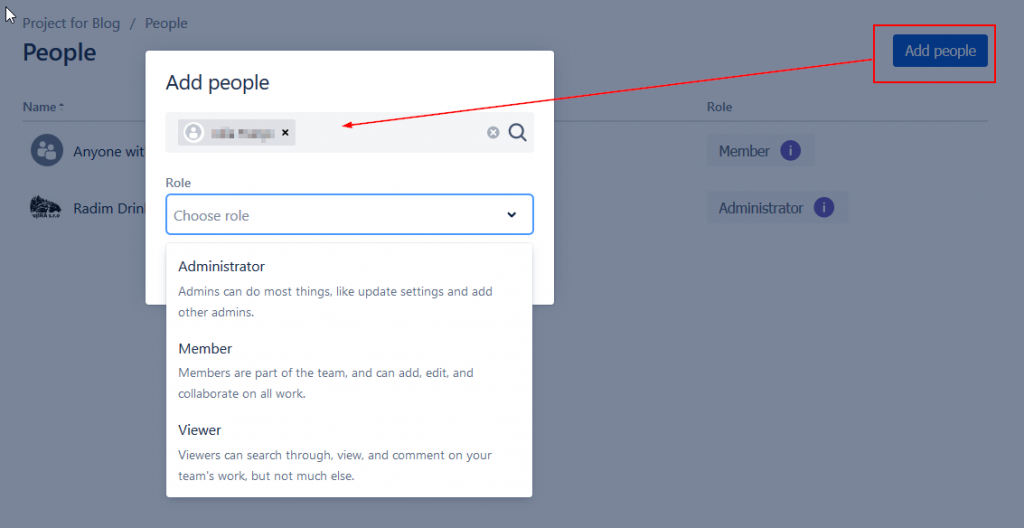 Types of tasks and fields
This can be the biggest surprise for the administrator – a regular user (if added as an Administrator in a project) can create custom types of tasks and fields!

On the uniqueness of the project – each can have other issue types, other fields for the same issue types, and so on.
Features
For each project, various functions can be (de-)activated: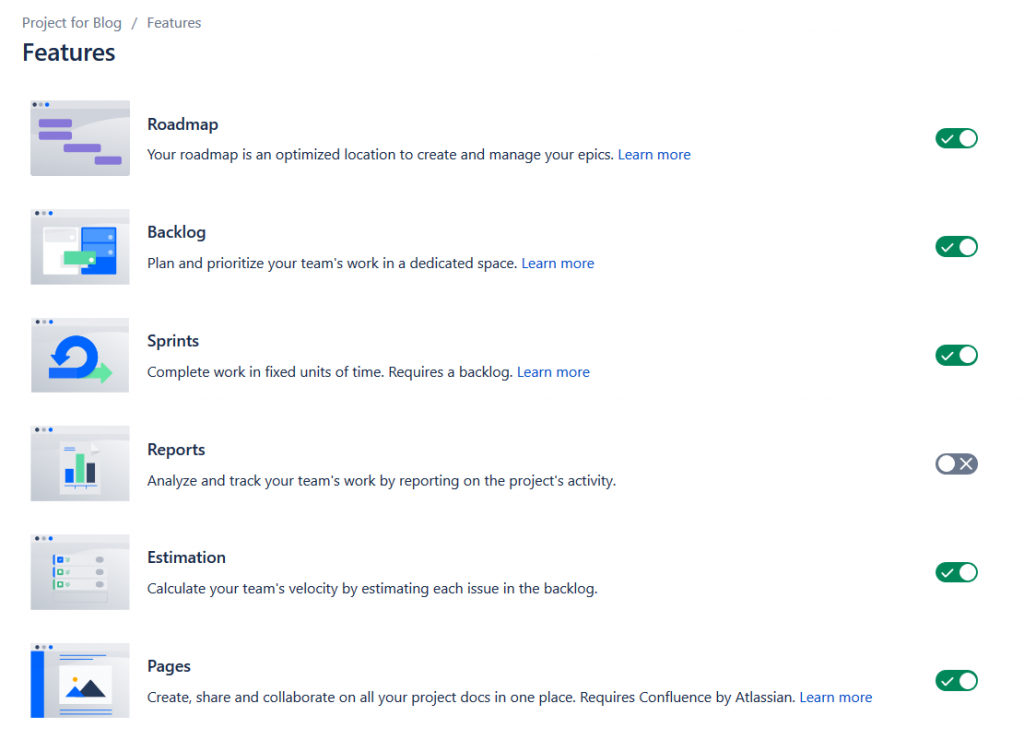 Roadmap 
NEW
It is possible to create a time roadmap for epics. Until now, this has only been possible with the help of apps. The direct creation of epics in the roadmap now built-in.
Backlog
Agile Spending Stories Planning + Optional Affiliation to Epic.
Sprints
Managing sprint stories (and tasks) for the kanban board.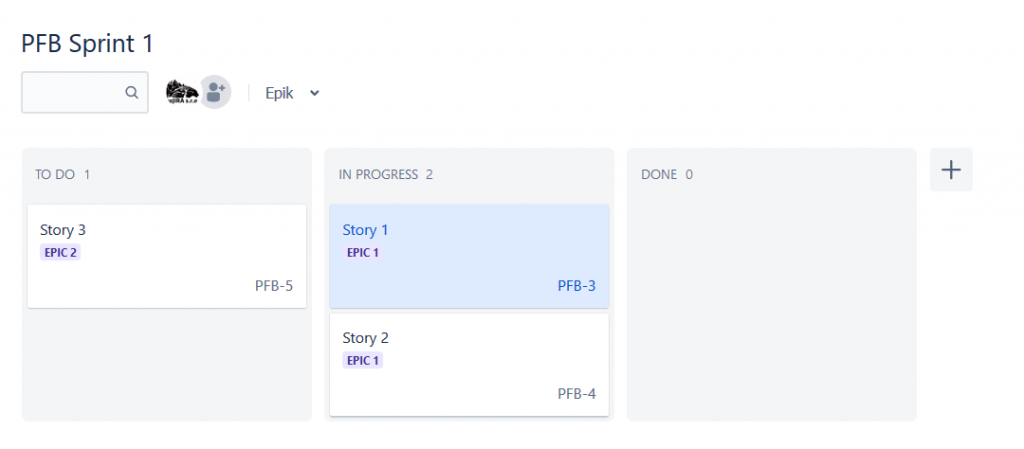 As seen at the top right, the user can add their own columns.
Reports
We may or may not use built-in reports.  It's designed to make available on-line daily usable status.
Pages
Built-in interface to Confluence, where it is possible to create Confluence pages directly from JIRA templates. It's expected that Confluence is in the same cloud.

Images on boards
After the purchase of Trello, Atlassian developers were visually inspired – if the attachments are in any usual graphic format (.png, .jpg, …), the kanban board displays them.

What do you think?
Increasing the number of users is a strategic decision. Atlassian has preferred cloud and data center solutions for awhile, and the best way to do this is to set an example. With the current trend in cloud solutions, I think this decision is right and appropriate for companies using cloud infrastructure. Connecting to the G-Suite is simple and practical. Although it is the only current connection to an external user management system, it is very useful in the cloud world.
The new "fresh" look is a matter of taste. For me, as a longtime user of server versions, it was a big change and it took me some time to get used to where I need to search. I have to point out that great changes were made at the user level, not in administration. As an administrator, I miss the Announcement banner that was removed in the cloud version. From my point of view, I evaluate the appearance change as neutral.
Next-gen projects are a step forward as more "user-friendly."  Autonomy at work will certainly be appreciated by many teams and companies. As an administrator, however, I am worried about creating redundant fields, issuing types for the same purpose with just another name, and so on. I rate the roadmap very positively.
Conclusion
Working in cloud versions of Jira has its own character and it is a great enrichment for my work with server and data center versions. Since the latest cloud version is always the latest version (often including some bugs), it can generally be said that what's in the cloud will sometime be in the server version. That's why everyone has to make their own opinions of the news in the cloud themselves.
For those interested (English): https://community.atlassian.com/t5/Next-gen/ct-p/agility
Radim Drinka
Atlassian Certified Technical Sales